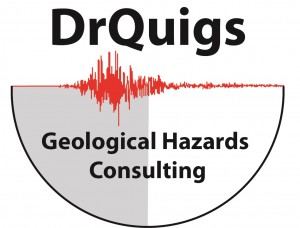 DrQuigs Geological Hazards Consulting has global expertise in the analysis of geological hazards including fault rupture, strong ground shaking, liquefaction, rockfalls, and landslides. We are one of the world's leading university-based research providers in seismic source characterization and seismic hazard, as evidenced from our research publications. We have extensive experience in the communication of complex science to stake-holders and government. We also review technical scientific reports in earthquake hazards, seismic hazard analysis, engineering geology and geotechnics.
Please contact Mark at mark.quigley@unimelb.edu.au to discuss rates and services.
RECENT CONSULTING PROJECTS
2018-2019: Ground surface fault rupture hazard analysis of the East African Crude Oil Pipeline in Tanzania. Clients:  GEOGROUP South Africa (http://www.geogroup.co.za/); Total Energy (https://www.total.com/en).
2018 – Tectonic setting and active faulting in the Snowy 2.0 hydroelectric scheme study area. Extensive investigation of potentially active faults using LiDAR and statistical analysis of fault length and displacement parameters. Probabilistic analyses of fault rupture displacements and recurrence. Client: SMEC
2018-2019 – Causes of the Christchurch Earthquakes. Expert witness for geological-seismological information on the Canterbury earthquake sequence. Client: Parry Field Lawyers, Christchurch
2018 -Characterisation of hazards associated with the 2018 PNG 7.5 earthquake and future seismicity. Teleconferencing on earthquake hazards. Client: Oil Search
2016-2018 – Seismic hazard and geotechnical characterization of the Mount Bold Reservoir (South Australia) including the Willunga Fault
Work: Authorship of 5 technical reports (1.2) Geomorphological mapping and analysis,(1.3) Geologic mapping, (1.5) Historical seismicity data obtention and analysis, (1.10) Hand augering, (1.11) Fault trenching. Conducted new research on the Willunga Fault for the purposes of characterising seismic hazard to critical infrastructure posed by strong shaking and surface rupture. Client: GHD Engineering and SA Water.
2016 – Review of Geology and Geomorphology of Urban Christchurch and Eastern Canterbury maps and supporting text.
Client: Tonkin & Taylor.
2015 – Geologic, Geotechnical, And Seismologic Context And Displacements Of Land And Buildings At Selected Sites Of Christchurch City Council Owned Reinforced Concrete Structures Damaged During The 2010-2011 Canterbury Earthquake
Work: Authorship of 8 technical reports (available here). Client: Christchurch City Council.
2006-2007 – Neotectonics and seismic risk in the Mt Bold region: Preliminary results and plans for future investigations
Work: Technical reports on active faulting on the Willunga Fault in South Australia's Mt Lofty Ranges. Client: Coffey.
2006-2007 –  Mount Lofty Ranges Active Faults
Work: Co-authorship of technical report on active faults in South Australia's Mt Lofty Ranges. Client: URS.